AbsentiA
Management - Michelle Murray
Email
+1.510.731.8052
AbsentiA was founded in 2004 by front man Julian Diaz & keyboardist David Barrientos. In the beginning Julian & David loved playing and listening to black metal music. Their playing style changed with each song they created together until they found a sound that would eventually become AbsentiA. "Symphonic Death Metal". After releasing their first album "Heaven Still Burns" in 2009, AbsentiA was included on the Spanish tour with The Haunted & Forever It Shall Be. After returning home they played with Brainstorm, and other shows followed with the likes of Avulsed, Darksun, Sound of Silence... In 2011 AbsentiA turned their focus from playing shows and entered into Dynamita Studios to record their 2nd full-length album titled Our Bleeding Sun. AbsentiA teamed up with producer/engineer Dani G. who helped create this intricate & powerful album Our Bleeding Sun. The new album is the natural progression from 2009's Heaven Still Burns. Our Bleeding Sun is faster, more aggressive and will catch your attention from beginning to end. "From the deepest desires often come the deadliest hate" (Socrates)

Line Up:
Julián Díaz - Vocals / Guitar
David García - Keyboards
Ián Álvarez - Bass
Manuel Morán - Drums

Radio Promotional Letter PDF
Sunday, March 4, 2012 - Interview with Julián Díaz in Absentia (Espanol)

Sunday, March 4, 2012 - Interview with Julián Díaz in Absentia (English)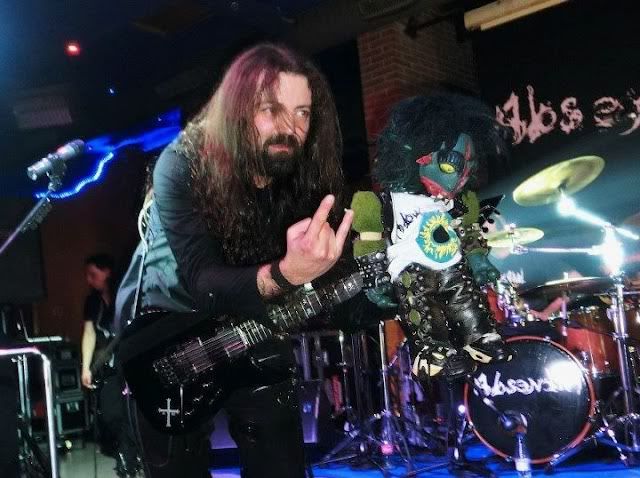 The "Our Bleeding Sun" in Absentia, was for me one of the best records released in the 2011 in our country. It is an album that sounds really well and with an exquisite elaboration. The months of work have been rewarded with a work that not to collect critical acclaim. But the band is now with the problem of distribution and present it live. We got in touch with Julián Díaz, guitar and vocals, so tell us as post-edición to "Our Bleeding Sun" is on this stage. This is what gave the interview whether: It does well little incluíamos "Our Bleeding Sun" in our Top-10 of the year. At the time you interviewed for the radio program and support the release of the album. Also chatted with Ian Alvarez by phone prior to your concert in the Sala Kandela in Oviedo. We are however from a Metalhead diary last Thursday with the surprise that much of the audience did not know even in Absentia, and loved to hear your music and not stopped to ask. And that on this occasion we click a topic on the first disk. Can you tell here as you can do with your discs? If you have already some agreement with someone who goes it to distribute?

Today the discs have for sale almost exclusively on our website. Mainly by that companies do not want wet with new products, and less of these styles of music. At least it is what we have encountered us, that does not mean that it can not be, but we have to live with it. They can also be achieved in some bars in Oviedo. On the other hand we have had the luck to meet Nate, owner of Malevolence Records, which is moving us the drive by some European cities and something by USA. But you could say that it is in a promotional manner. Nothing on a large scale or much less. If anyone wants more info please contact us through merch@absentia.es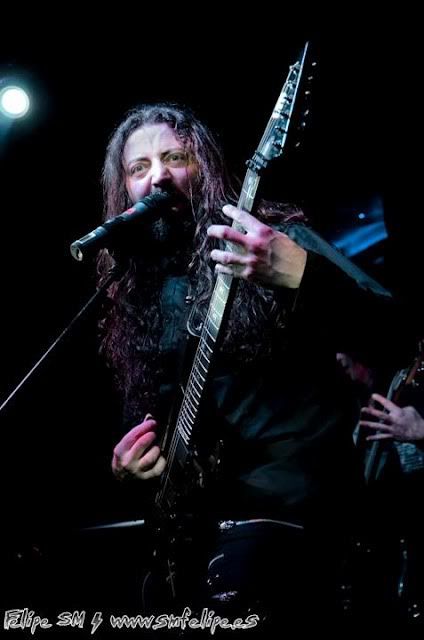 Photo by Philip SM. http://www.smfelipe.es

Closest to you have been lucky enough to go quite little at the presentation of the disc at the Kandela Oviedo Chamberconcert. When will the rest of mortals chance? Do you go ahead some detail of the tour? We know even dates outside of Spain.

At the moment we have closed recently. So pot soon say that on 6 April we will be playing in Madrid in the semifinals of the WOA Metal Battle Spain. On 5 we will play in Gijón on July 20 in Luarca Metal Fest with Nami (details to be confirmed yet). Between socks have (for now) three dates out of Spain next KaoS band from USA. The dates would be by now 30 June Germany (Tiengen), 6 July in the Netherlands (Tilburg) and July 7 in the MOO Belgium fest (Oostrozebeke). But continue looking at dates, we would like to pinch play at least 3 or 4 days more. There is still much and we are still working on it. For now it is what there is, although in September if not turn the thing, we could have a good concert by Asturian land. But we do not forward events so not to go to hell.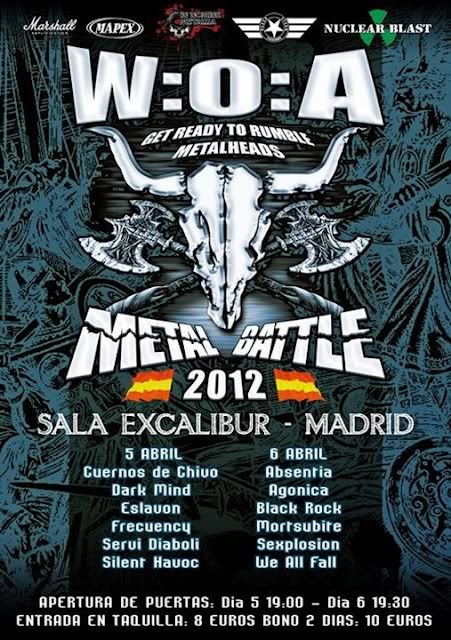 Like a band of Oviedo that hard to find dates in their own home gets to play more than the Pyrenees?

It was really easy for us. Owe it to a good friend, Michelle Murray (who from here send a huge Kiss) that long it comes giving us encouragement and helps in what can be. Helped me with the letters of the disc with translations and other... and moved for us what he could and more contacting Nate owner of Malevolence Records. Emerged the possibility of doing a few dates as a promotion of your company, so we throw head. To see that is the thing. What if it is certain that the experience that we will be worthy of mention. Have no danger of us... lol

We recently published the full poster of Luarca Metal Fest that you formaréis party this year. There you touch among others with Evile. Have you already played with Brainstorm, toured with The Haunted and Forever It Shall Be... At this point in the film with what band would you like to go on tour?

Least with Dream Theater with anyone lol, those are not of this planet. Outside coñas, we do not have many preferences when it comes to play. I think we stuck well with many styles of music to share cartel. Within the metal with bands of almost any kind, I mean. We know what we do and that we can do well so fear none. Logically the greater is the name of the group for us better. I am referring to September.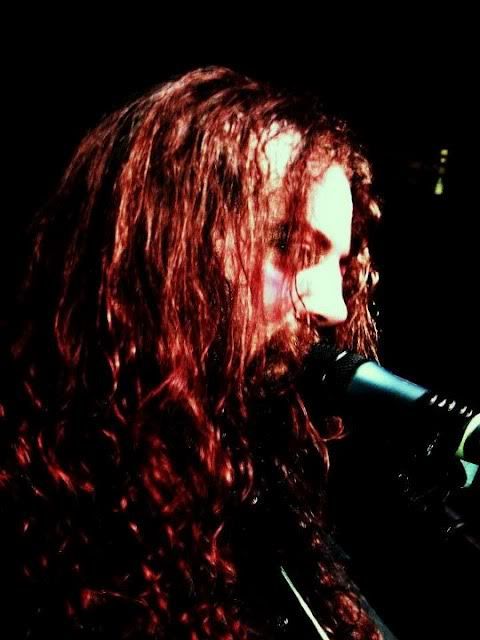 You've already seen a lot of times live and the other day in the Kandela room seemed like see you nervous that you carried some small mistake. You sentisteis examined by the audience of your city? It is not easy to play for friends when they include some very brilliant musicians, right?. Do it too weighed you with the responsibility of wanting to do better than ever? Or is simply the lack of coupling to long without playing live?

We had long live untouched by recording and other issues. We wanted to do something big that day, but everything was going wrong, we are a little disaster in some ways. Ian and I barely slept the night before working on some videos finally we could not put in the two huge screens that we had brought for this purpose. There were problems of current testing and so we decided to put it aside. The bolus started it well but the Court of light in the first issues we jodió much. Cut you the roll. From there we were afraid so say that it happened more times. Sequences that shooting were not as deberían, but these things we learn. The majority of the people is not learned, but if some realize even though they are the least, the truth. To me what really matters to me is that I was what I did and I was not at the height that you should, that I have it very clear. Try it the worst bolus of our lives and now we are a steamroller live!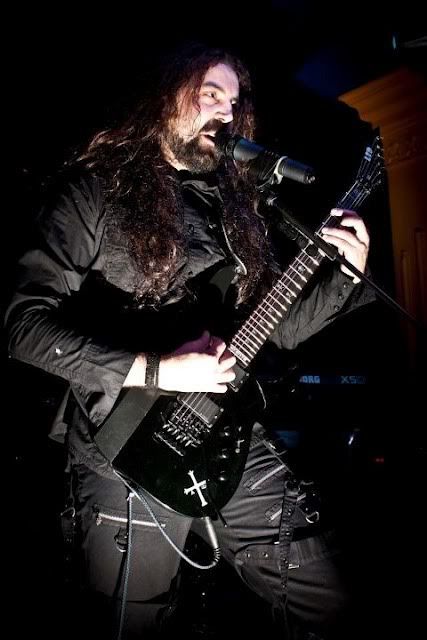 Photo by Jaime Dark

Man, if this was the worst, I will try not to lose me none. I think that the degree of input in Absentia is sumemente high. You know where you want within your directions, but I do not require both. At least not while having to struggle with small auditoriums. The other day Ani, came out to sing with you "Inferno" item as it does on the local drive. Do scheduled to accompany you in a concert?

It is difficult, given that we have thought playing little in the area. But we are sure that any other time will be with us. At the moment we have nothing fixed. The truth that was a puntazo who left that people did not expect and was very good. Why we want to thank you for your collaboration.

Nothing else for now. Our intention with these questions was a bit more to become known to the band. Fortunately the diary of a Metalhead audience has grown since those early October when we click the band and you interviewed via telephone and many of those who now are listening to us, did not then. I will continue to support as always.

Thanks and a hug.

Thank you.

Absentia form part of the poster of the Metal Over Oostrozebeke (Belgium), to be held next summer, specifically on Saturday July 7. For this reason have given us exclusive five cd's compilations with bands of the festival, edited by Malevolence Records, we give next Thursday on our radio program. Stay to listen and I say as you can get with one.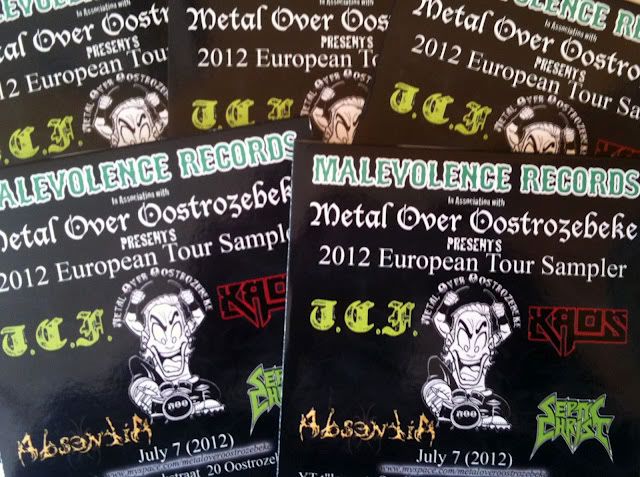 © Larry Runner 2012

Related links:
v reviews of discs: Absentia - Our Bleeding Sun
v interview with Ian Alvarez
v Chronicle concert 27.01.2012 Oviedo

Contact AbsentiA

Bookings, Press and Media Interest:
Management - Michelle Murray
Email
+1.510.731.8052

Malevolence Records©
Label - Nathan McLeod
Label Assistant:
RIP Dean Wilhelm : 7-30-48 to 7-24-12
Reverb Nation
Sound Cloud
Metal Archives


---
Website Design by JJ Designs
online store developed by Three Four Web Design